Our Horses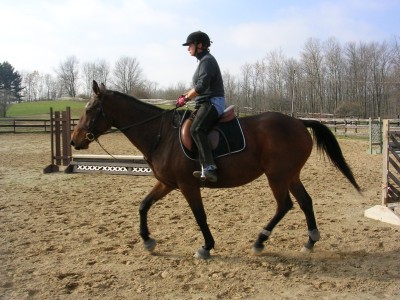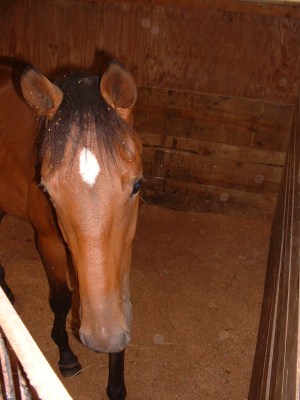 Rylie
(Proposed Show name Rotten Rylie)
Rylie was born here kind of by default. Chris and I had decided to try artificial breeding methods on two of our better show horses. We had selected them and watched them carefully for their right time. As luck would have it, the day the veterinarian came out to do the procedure, neither mare was ready. One was past her time, and the other ended up having medical complications that would make her not a candidate for that year. Here was the vet, here was the time and not a mare in sight. We had a off the track thoroughbred named Molly that we had been trying as a school horse. She had proved exceptionally NOT a camp candidate, and she was scheduled to be shipped out to be sold the next day. As luck would have it, Molly just happened to be prime for breeding on that very day. Chris and I had a short conference and decided it was better to go with Molly than waste the vet call. And so, Molly ended up staying at Cedar Lodge another year and the result was a long legged filly with big ears that we named Rylie.
Rylie was a big foal and as time went on, she was a big yearling and a bigger 2 years old. Leggy, gangly and frankly, quite ugly with a huge head on her. It was clear that she was going to be tall. It seems that all her parts just wouldn't grow at the same time, so she was always out of proportion. I can remember turning to Chris several times and just saying, "All her parts better bring it together eventually." And they did, but Rylie was almost 5 by that time.
Rylie trotsRylie was so underdeveloped by 2 that I didn't want to saddle break her. By three, she looked even worse. I did break her, but just to walk, trot and a very small amount of cantering. I worked with her again the spring of her being 4 and promptly got sailed through the air for my efforts. Clearly, Rylie was figuring out how to use all her parts! She was still gangly and out of proportion, but there was hope at the end of the tunnel. The fall of 2007, Rylie was 4 ½ and we started to learn to jump. I took her very slow, and that proved to be good. It was one thing to have all the parts together in the right proportions; it's another to get them all strong enough and coordinated enough to carry you easily for a course of 8-10 jumps! It is clear from our work that Rylie is talented over fences. Now and then, when I come down to a perfect spot, over something big enough for her to care about, she lifts off the ground and just about throws me out of the saddle with the power of her jump. During those times, I usually turn to Cathy, who will faithfully be playing ring crew (and pick up Amy off the ground crew) and say, "That was really good, wasn't it?" and Cathy will nod. The mare definitely has the talent. Now it's just a matter of putting it all together.
Rylie cantersRylie went to her first show in the fall of 2007 as well. We just went to hack, not to show. We wanted to give her a chance to check out the show grounds, get away from home. Rylie was good. She was anxious and a bit spooky. She called for her friends, but she settled and walk, trot, cantered like a pro. I didn't take her in a flat class. It may be several years since my incident with Dilly, but I have a reasonably good memory. After being launched off Rylie once, I have no desire to do it twice, and given the opportunity, I'm sure that I will not stay on for long. That's the thing about Rylie. When finished growing, she was just a bit over 16.2. That's big, especially when measured against other Cedar Lodge horses, but not huge. I have certainly ridden horses that size before and never had a problem, but Rylie's gaits can be intimidating. She has a big springy trot, a powerful canter and a launching jump. I have nothing but respect for those combinations and will try not to put her into a position that she thinks life might be better without me. Hopefully, all it will take is time.
If all cards play out right, Rylie will begin her show career in 2008. Jumping and hacking, going to new places, gaining experience. I am in no hurry. I will show her in 2008, and perhaps for the next few years, hopefully with some help along the way from my nieces. The Rylie kind of jumpswonderful thing about Cedar Lodge is that we think of our horses as family. Their education is just part of the learning curve that we feel they need to go through to be productive citizens. Our hope for Rylie is that she will be here for many, many years to come. Eventually, I hope that she will become a good campaigner for someone in our stable, or used by our show team campers during the summer, but not right now. Now we will be putting on the mileage and chalking up experiences. I'm sure you will hear more about her along the way.