Our Horses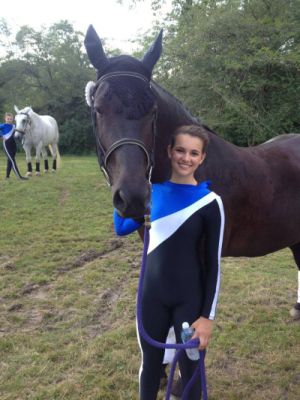 Bella
Lady Isabel, or Bella for short, is owned by vaulting coach and boarder Jane Egger.
Jane bought Bella as a 6 year old in 2009 to be her next vaulting horse. She is 16 hand, black light weight Percheron, with a white star on her forehead.
At one of the vaulting shows Amy saw Jane with this wild Percheron running around and said "Jane, you have to bring that horse to me." Jane brought Bella to Cedar Lodge and put her in training with Amy the next season (March 2012). Bella was taught how to lunge, work on the flat, jump and carry vaulters. Bella is very smart, and if she wasn't fighting what you were asking, she was learning very quickly.
As part of Bella's training Cedar Lodge used her for advance vaulting lessons, and it soon became apparent that Bella was the missing size/temperament Cedar Lodge Vaulting was missing. In 2012, Bella's first season, she carried staff member Cassie at vaulting nationals in Lexington, KY. That is right, she showed at the national vaulting competition after only 4.5 months of training. Bella and HalieThe following year, Bella received "horse of the fest" at several shows, and even won the Region X high point horse at the end of the season. She carries beginner canter vaulters and advance canter vaulters alike for the Agape and Cedar Lodge vaulting teams. She is incredibly tolerant of vaulters learning new moves, and if you watched her lunge now, you would never know how wild she use to be.
Vaulting isn't Bella's only job. Bella also shows hunters with her owner Jane. For the last two show seasons Jane has taken Bella from cross rails to jumping 2'3″. For a big horse, Bella has a conservative stride length, but fantastic knees. Jane also plays around with some dressage on Bella and has hopes of finding a local dressage show or two to ride her in in the near future. Did I mention she loves trail rides and is perfect to ride bareback?
Bella has become a very important team member to the Cedar Lodge vaulting team, and an excellent show horse for her mother!